**video
The MLB schedule features a full slate of 15 games Saturday, including a 36-year-old pitcher making his first career start. Get analysis on all of today's games as well as tips on weather, umpires, and other betting trends with our daily MLB Line Drive.
Double-Play Picks
Oakland A's at Seattle Mariners (-150, 9.5)
"I think you've got the wrong guy."
That's A's call-up starter Chris Smith after hearing he would get the start for the big club in Seattle Saturday. Doesn't instill a great deal of confidence, does it?
Smith, who is a self-proclaimed 36-year-old stay-at-home dad, has been with the Triple-A Nashville affiliate and will be the oldest starting pitcher in franchise history when he toes the rubber this tonight. The right-hander pitched just under 25 innings of relief for the A's in 2016 (2.92 ERA, 29 Ks) and should he get chased early into this start, he'd hand the ball over to Oakland's awful bullpen, which ranks dead last the American League with a collective 5.08 ERA.
The Mariners lineup will be licking its chops at the plate. Seattle scored seven runs in Friday's victory over the Athletics and is hitting .265 BA and averaging more than five runs per game inside Safeco Field - the third-best home field offense in the AL.
Seattle marches youngster Andrew Moore to the mound Saturday, who at 23 years old is just 10 years older than the combined age of Smith's three daughters (talk about two different worlds). Moore has been solid in his first two starts of the season, allowing six earned runs through 15 total innings pitched.
There is just one warning light blinking with the righty: Moore leans on that four-seam fastball and isn't looking to paint the corners or force hitters to chase his breaking stuff. He has yet to walk a batter but has already allowed three home runs in his limited efforts, which means he's putting it over the plate.
Oakland doesn't do much right on offense, but it can swing a big stick and ranks eighth in the majors in home runs (123). The A's had scored 21 totals runs in the three games before Thursday's loss, totaling seven dingers in that span. Anything Moore throws over the plate has a chance to leave the ballpark in a hurry against this lineup.
Pick: Over 9.5
New York Mets at St. Louis Cardinals (-133, 9.5)
The New York Mets and St. Louis Cardinals will tangle in a late afternoon game at Busch Stadium, with the home team looking to even up the series at one game a piece.
Veteran right-hander Adam Wainwright will get the ball for the Cardinals. He has struggled this season as it appears father time has caught up the 35-year-old his 5.48 ERA is almost a full run higher than last year, which was the highest of his career. The good news for Cardinals backers is that he can still get the job done at home 6-1 on the season.
The Metropolitans will run Zack Wheeler out to the hill today and that normally means a lot of runs. The Over has cashed in 10 of his 12 starts this season. Narrow the sample size to his last three starts and Wheeler's ERA is 18.41, three overs and if you look simply at Wheeler on the road the over has hit in four of five starts.
It isn't that Wheeler doesn't have potential but a rash of injuries over the last two years have crippled his development and the 6th pick in the 2009 draft is struggling to catch up.
In the last five meetings between the Mets and Cardinals, the two teams have hit the over in all five averaging a combined 11.2 runs per game.
Pick: Over 9.5
Yesterday's Picks: 1-0-1
Season To Date: 85-73-8
For more FREE picks and analysis head over to our Free Picks page on Covers Experts.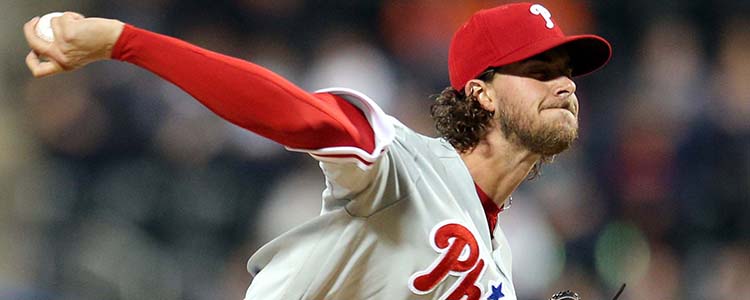 Streaking: Aaron Nola, Philadelphia Phillies (6-5, 3.73 ERA, $95)
There isn't a lot to be excited about for Phillies fans in 2017. They were never going to be good and no one is surprised to see them with the worst record in baseball a few days before the All-Star break.
One bright spot so far has been 24-year old Aaron Nola, who has shown not only that he belongs in the big leagues but can be an ace. Over his last three starts, he is 3-0 with a 1.27 ERA, .94 WHIP, and has gone at least seven innings in each of those starts.
Nola and the Phillies are -147 home chalk against the Padres this afternoon.
Slumping: Wade Miley, Baltimore Orioles (3-7, 5.20, $-137)
When in doubt for a slumping pitcher look no further than the Baltimore Orioles.
It might not be fair to say Wade Miley is in a slump at this point he is what he is, but his last six starts have been god awful. An ERA of 11.69, 2.55 WHIP, and he hasn't made it past the sixth inning in any of these appearances.
Miley is on the mound today as the Orioles are +124 underdogs today in Minnesota.
Saturday's Top Trends:
Braves are 1-8 in Julio Teheran's last 9 starts vs. Nationals. +193 @ Washington
Red Sox are 0-7 in Rick Porcello's last 7 starts vs. American League East. -107 @ Tampa Bay
White Sox are 2-11 in their last 13 road games vs. a team with a winning record. +123 @ Colorado
Under is 12-1 in Cubs last 13 vs. a team with a losing record. Pirates/Cubs Total: 8
Weather To Keep An Eye On:
The forecast is calling for a dry day across Major League Baseball today and no games should be delayed or postponed.
There are a few games that will feature decent hitter's winds. The Yankees will entertain the Brewers with a 14 mile per hour wind blowing out to straight center field and a betting total of 9.5, the Phillies will host the Padres at Citizens Bank Park with a 13 mile per hour wind blowing out to right field and a total of 8, and the Giants will welcome the Marlins with a 15-17 mile per hour wind blowing out to left field and an Over/Under set at 8.5.
Ump Of The Day:
Paul Nauert gets the pads today at Rogers Centre where the Blue Jays are hosting the Houston Astros. Nauert has been one of baseball's top homer umpires this season with the home team winning 11 of his 14 appearances (78.6 percent) behind the plate and when the home team is favoured by between -140 and -101 they are 5-0.
This is of course great news for Marcus Stroman and the Blue Jays. The Jays are currently -115 chalk against the best offense in baseball.
Saturday's Top Consensus: