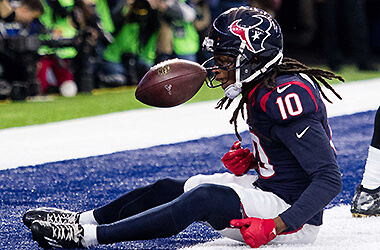 The NFL daily fantasy season has just ended, but it's never to early to start thinking about 2017.

While it's impossible to know how players will be priced for Week 1, we can certainly speculate as to which player might find themselves in position to return big-time value early in the 2017 season. Team-by-team circumstances change constantly throughout the offseason, so this list might look decidedly different after the draft, or once the free-agent frenzy begins. But as of late January, here are four players to keep an eye on early in the 2017 DFS season:

QB Philip Rivers, Los Angeles Chargers

Rivers has had it rough for two straight years; in 2015, it was a banged-up offensive line that was his major undoing, while 2016 was defined by the early-season loss of star receiver Keenan Allen and spark plug running back Danny Woodhead. And while it's no guarantee Woodhead will re-sign in Los Angeles, the return of Allen alone will help Rivers return to elite fantasy status. Add in the emergence of TE Hunter Henry as a capable replacement for the might-be-retiring Antonio Gates, and Rivers is in a good spot. Look for him to be a popular mid-level QB pick in the early part of the season.

RB Adrian Peterson, Minnesota Vikings

Peterson is looking at a wide price potential after a lost 2016 season which might be his final one in a Minnesota uniform. But there's tremendous value opportunity depending on how he's priced in daily fantasy - and that will hinge heavily on where he ends up. It isn't known how committed Minnesota is to keeping the future Hall of Fame rusher, but whether he returns to the Minny backfield or signs somewhere else, he'll likely be in line to start as long as he's healthy. Look for him to be outside the top 5 backs in terms of salary in Week 1, but keep him in mind as a guy who appears to still have plenty in the tank.

WR DeAndre Hopkins, Houston Texans

The 2016 campaign was one to forget for Hopkins, who never found a rhythm with new Houston quarterback Brock Osweiler en route to a terrible final stat line (78 receptions, 854 yards, four TDs). Yet, just as he was a longshot to repeat his sensational 2015 effort, there is little chance he is this bad in 2017. Another offseason with Osweiler - or whoever the Texans use to replace him - should result in better synergy, and Hopkins' physical tools scream elite receiver. Look for him to be available at a discount at the start of the season, making him a terrific value play early on.

TE Tyler Eifert, Cincinnati Bengals

Eifert's lost season actually began at the 2016 Pro Bowl, when he suffered a serious leg injury that had a hand in him missing both training camp and the opening of the campaign. Eifert appeared in just eight games with Cincinnati, and struggled to regain his elite form - and yet, he still finished with five touchdowns. He remains one of the biggest red-zone threats in the league, and with a full season to recover (no Pro Bowl for Tyler this year!), he should be able to get back to being an every-game menace. He might not be available at a full discount at the start of 2017, but if healthy, he's a must-own in all formats.