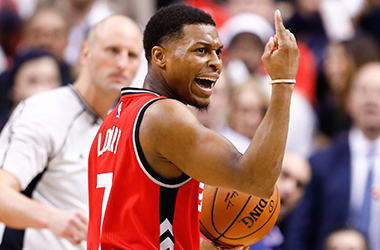 We all know who are the best players in the NBA, but these superstars come at a premium price in daily fantasy. Monty Andrews is here to help you find the best bang for your buck when shopping for high-priced talent.

Here are the top high-salary daily fantasy options for this week in the NBA:

Tuesday - SG James Harden, Rockets (vs. Magic)

Ownership levels will be through the roof here, as Harden represents the single biggest play on a modest three-game slate. You'll need to decide whether you have the intestinal fortitude to fade the only guy with a 50-point floor and an 80-point ceiling - and if you do, you might be the only one in your cash-game contest. The Magic aren't going to be able to slow Harden down - in fact, the only thing that makes him a risky pick is the chance of a blowout. But even in that case, Harden will get his. Roster him everywhere.

Wednesday - PG Isaiah Thomas, Celtics (at Kings)

Absolutely nobody is slowing Thomas down these days - he has pushed his season scoring average to the verge of 30 points per game thanks to a ridiculous surge in which he has increased his scoring pace every month since the start of the season. That includes a 36.7 points-per-game mark through three February contests, up from 32.9 in January. Thomas is going to cost you a small fortune to roster, but you can't afford to fade him - especially against a Kings backcourt that has no way of stopping him.

Thursday - PG Damian Lillard, Trail Blazers (vs. Celtics)

Thomas might not exactly meet his match in the back end of a West Coast back-to-back, but it could be difficult for him to contain Lillard while working on zero days of rest. Both teams rank in the top 12 in offensive efficiency, you can expect this one to be a barn-burner - and that benefits the top scorers on both teams. Lillard will likely come a few thousand dollars cheaper than Thomas, making him a stronger value play. Look to roster him in all formats.

Friday - SF Giannis Antetokounmpo, Bucks (vs. Lakers)

Antetokounmpo put a rough eight-game stretch behind him with 57.4 fantasy points against the Phoenix Suns on Saturday, giving hope that perhaps he's ready to be a value play again. The salary is prohibitive for a player who doesn't have the same upside of a James Harden or a Russell Westbrook, but his floor is among the highest at his position. Look for him to torch the Lakers, who are allowing the third-most fantasy points to small forwards. Avoid him in tournaments, but play him everywhere else.

Saturday - SF Kevin Durant, Warriors (at Thunder)

Sometimes, you just have to go with the narrative. Durant will be making his first visit to Oklahoma City since bolting for the Warriors in free agency - and you know he's going to want to make a splash. If that won't convince you, consider that Durant is averaging a healthy 61.9 fantasy points in his first two meetings with his former team. His Warriors teammates will be looking to get him the ball at every opportunity - and he knows just what to do with it. Play him everywhere.

Sunday - PG Kyle Lowry, Raptors (vs. Pistons)

You might find it more difficult to play Lowry late in the season, when the Raptors will almost assuredly try to find ways to get him some much-needed rest before the playoffs. For the time being, however, he'll continue to see 38+ minutes per night - and this game has daily fantasy feast written all over it. Lowry will have three days to rest up, and the Pistons have allowed the third-most fantasy points to point guards over the last 10 games. He's a slam-dunk choice.