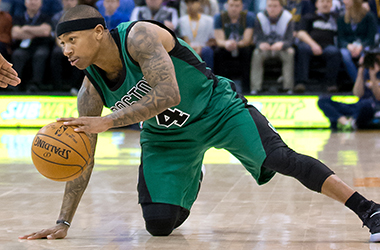 We all know who are the best players in the NBA, but these superstars come at a premium price in daily fantasy. Monty Andrews is here to help you find the best bang for your buck when shopping for high-priced talent.

Here are the top high-salary daily fantasy options for this week in the NBA:

Tuesday (cash game) - C Karl-Anthony Towns, Timberwolves (vs. Cavaliers)

Towns is generally one of the safest daily fantasy options available, and this is no exception. The second-year center will be the focal point of the Timberwolves' attack against the visiting Cavaliers, who have nobody in the lineup who can slow him down. Need proof? Consider that KAT eviscerated the Cavaliers for 26 points, 12 rebounds and four assists in his previous meeting with Cleveland on Feb. 1. Look for an even bigger game at home, and make him the cornerstone of your cash-game lineup.

Tuesday (GPP) - PG Kyle Lowry, Raptors (at Bulls)

From a strictly statistical standpoint, you can make a compelling case to roster Lowry in tournaments. He has been his usual efficient self so far in February, averaging 20.7 points, 6.8 assists and five rebounds while playing a whopping 38.5 minutes per game over that stretch. But let's also consider that Lowry is one ticked-off point guard given his team's recent struggles - and he's in prime position to take out his frustrations on a Chicago backcourt that will struggle to contain him.

Wednesday (cash game) - PG Isaiah Thomas, Celtics (vs. 76ers)

The Wednesday slate is chock full of daily fantasy goodness - so if you're looking at constructing the perfect cash-game lineup, you should opt for the safest player available and build around him. And who better to roster than the guy averaging better than 33 points per game in February? Thomas lacks the upside of the NBA elite due to his modest assist, rebound and steal totals, but he's averaging more than 30 points in two meetings with Philadelphia and should get there with ease Wednesday.

Wednesday (GPP) - PG Russell Westbrook, Thunder (vs. Knicks)

So here's the issue with Westbrook: While there's no questioning his spot as the No. 1 player in DFS, he rarely reaches tournament-level value due to his ridiculous salary. That said, can you really fade this guy at home against one of the most dysfunctional rosters in professional sports? Westbrook should carve the Knicks' backcourt to ribbons - and will get plenty of playing time even if this game gets out of hand. Roster him confidently in all formats - even large-field tournaments.

Thursday (cash game) - SG Jimmy Butler, Bulls (vs. Celtics)

The slate prior to the NBA all-star break is a meager one, with just two games on the schedule. With so few players to choose from, you can't afford to get cute here. Butler is the only reliable daily fantasy contributor on the Bulls' roster, and is a must-play at a position where so few playable options exist. Add in the fact that Chicago is one of only two teams not playing the night before, and Butler is a slam-dunk against the Celtics.

Thursday (GPP) - C Myles Turner, Pacers (vs. Wizards)

Turner isn't the sexiest choice for a tournament lineup, but with just four teams to choose from, can you really be that picky? Turner carries enormous upside in any given matchup because of his rebounding and shot-blocking ability; while he could very well fall flat against the Wizards, previous history suggests he'll be just fine: he's averaging 15 points, eight rebounds and 2.7 blocks in three meetings this season. If he can get to 20-12 with three or four blocks, he'll be a terrific GPP play.