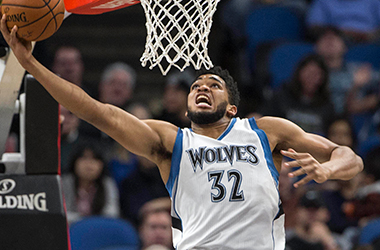 We all know who are the best players in the NBA, but these superstars come at a premium price in daily fantasy. Monty Andrews is here to help you find the best bang for your buck when shopping for high-priced talent.

Here are the top high-salary daily fantasy options for this week in the NBA:

Thursday - C DeMarcus Cousins, Pelicans (vs. Rockets)

Feels weird to see that in print, doesn't it? Cousins being traded to New Orleans is the story of the week, and Pelicans fans will get their first look at their new post superstar - All-Star Game excluded - against James Harden and the visiting Rockets. This game should feature plenty of daily fantasy goodness, but players in all formats should key in on Cousins, who will undoubtedly be looking to make a positive impact in his first game with his new team. Expect a big game from Boogie - and roster him accordingly.

**video

Friday - C Nikola Jokic, Nuggets (vs. Nets)

Jokic continues to operate at a completely different level this month, averaging 20.1 points, 11.1 rebounds and an eye-popping 6.3 assists. The 22-year-old is putting up monster stat lines on a regular basis, and should have no trouble justifying his lofty salary against a Nets team that remains mired near the bottom of the NBA standings. Jokic racked up 14 points, 11 rebounds and three assists in just 21 minutes in their first meeting, and he should feast if given a full complement of playing time.

Friday (bonus play) - PG Russell Westbrook, Thunder (vs. Lakers)

This might not surprise the majority of daily fantasy players - or NBA fans in general, for that matter - but Westbrook has owned the Lakers so far this season. The triple-double machine is averaging 33.5 points, 14.5 assists and 9.5 rebounds in a pair of meetings with Los Angeles, and a sensational kickoff to the second half is a near-certainty given that the Thunder remain in the Western Conference playoff race. Look for Westbrook to show no mercy against a Lakers team that struggles defending point guards.

Saturday - C Karl-Anthony Towns, Timberwolves (at Rockets)

Houston might be one of the top teams in the Western Conference, but it can be exploited on defense - and in that regard, Towns is the top pick on a Saturday night full of great daily fantasy options. Towns has faced the Rockets twice this season, and the results have been awesome: averages of 32 points, 17 rebounds, five assists and two steals on 55.6 percent shooting from the field. The Rockets allow the third-most fantasy points to centers; Towns should make them pay again Saturday.

Sunday - SF Giannis Antetokounmpo, Bucks (vs. Suns)

Plenty of daily fantasy players will opt for Spurs SF Kawhi Leonard against the Lakers, but he doesn't have the kind of upside you can get from Antetokounmpo against the visiting Suns. Small sample sizes are always a danger, but Antetokounmpo grilled Phoenix in their previous meeting this season, erupting for 30 points, 12 rebounds, six assists and four blocks. A similar line would return big-time value, but he doesn't even to reach those lofty totals to be the best play at his position Sunday.

Sunday (bonus play) - PF Serge Ibaka, Raptors (vs. Trail Blazers)

Feeling frisky? Roll with Ibaka, who should see a significant rise in productivity as he moves from lottery-bound Orlando to playoff-bound Toronto. It's unclear how the Raptors will incorporate Ibaka into the offense, but he should see plenty of opportunities - and playing time - down the stretch. His price point is attractive, and he'll face off against a Portland team allowing the third-most fantasy points to power forwards. He carries risk, but the upside is worth investing in this weekend.