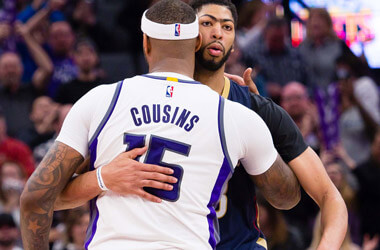 One of the biggest trades in several years took place during the NBA All-Star break, as the New Orleans Pelicans acquired star center DeMarcus Cousins from the Sacramento Kings. The deal not only rattled the foundation of the NBA, it also sent shockwaves through the daily fantasy community as players tried to process how the move will impact lineup construction.

With Cousins and fellow Western Conference All-Star Anthony Davis now sharing the New Orleans frontcourt, the burning question is: what will it mean to daily fantasy players to have two of the NBA's top five post players on the same team? In short, DFS players should expect short-term pain - but the potential for some long-term gain if you make the right choice.

While the pairing of Cousins and Davis will undoubtedly increase the Pelicans' playoff chances in a competitive West, both players are due to see a reduction in points and rebounds more often than not. Both Cousins and Davis generate FanDuel points in similar ways, and with both on the court on the same time, they'll be competing for the same rebounds and will be forced to share touches in the frontcourt.

Consider the usage rates of both players: entering Thursday, Cousins ranks second in the NBA in usage rate at 37.5 percent, while Davis is sixth at 32.5 percent. Expecting the duo to combine for a 70-percent usage rate is absurd; for comparison's sake, Cleveland Cavaliers stars Kyrie Irving and LeBron James have the highest combined usage rates among teammates at 59.6 percent. Look for both players to see their rates trimmed, though it's possible they could remain ahead of Irving and James moving forward.

The bottom line is, neither Davis nor Cousins can be counted upon to return value relative to their sky-high salaries, at least in the interim. Both players excelled because they were far and away the top options on their respective teams; now that they wear the same uniform, they'll both be asked to do less on offense, and quite likely will.

The silver lining? Their muted stat lines should result in an eventual salary correction that will make both players solid targets - though not necessarily at the same time. Presuming that both Cousins and Davis see salary reductions of at least $1,000 each, you can justify starting one of them while opting to save money at the other frontcourt position - but at the moment, it would be hard to justify shelling out $10K+ without knowing how the offense will run.

As for which superstar is worth rostering on a given night, it's all about matchups. If the Pelicans face a team that struggles against centers, then Cousins is the logical option as he'll likely see the majority of court time at the 5. If New Orleans is matched up against a team that has trouble defending power forwards, you're better off going with Davis. But again, this is only a guideline - ultimately, you won't know which player is due for a bigger game.

Seeing Cousins and Davis share the same court is going to be a major thrill for NBA fans, but daily fantasy players will need a little time to sort things out. The two have been responsible for countless DFS wins this season - and while putting them together is a coup for the Pelicans, it's shaping up to be a major letdown in daily fantasy.