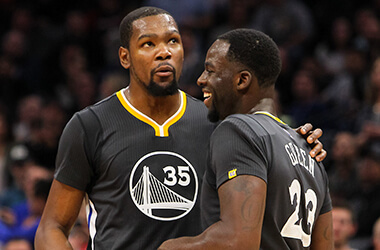 It's never good to see a player get injured, but it's especially distressing when that player happens to be one of the best in the NBA. And yet, that's exactly the situation we're dealing with - twice over - with word that both Golden State Warriors small forward Kevin Durant and Toronto Raptors point guard Kyle Lowry are expected to miss the remainder of the regular season with knee and wrist injuries, respectively.

But their absences present intriguing value windows in daily fantasy - and you had better jump on these opportunities soon, since the players expected to gain a value boost will undoubtedly see a significant salary increase until situations change, or until the injured stars return - likely sometime in the playoffs.

Here's a look at each injury situation, along with who should benefit most:

Kevin Durant, Golden State Warriors

Main Beneficiary: PF Draymond Green
Secondary Beneficiary: SF Andre Iguodala

Durant suffered a freak leg injury in Tuesday night's loss to the Washington Wizards, and is expected to be reevaluated in four weeks; sprained MCLs typically take 6-8 weeks for a full recovery, which would take Durant out of the lineup until the early rounds of the postseason. Yet, while the news is devastating for Warriors fans, and daily fantasy players who have one fewer star options at small forward, it does create terrific value opportunity for a pair of Golden State players.

Green should see the biggest stat boost, since much of what he does well - terrific rebounding and above-average passing for his position - are qualities that Durant shares. Consider what Green did after Durant was injured on Tuesday: 14 points, 14 assists, eight rebounds, two steals and a block. Look for Green to scoop all the available boards and dimes he can while continuing to add fantasy points through his steals and swats. He's a must-roster anytime the Warriors play.

Iguodala isn't going to win you a tournament by himself, but the extra playing time he'll see in Durant's absence is significant because, at least for the time being, he'll remain an affordable filler option. Iguodala picked up 31 minutes against the Wizards and, while his final stat line was modest to say the least, he should do enough to at least establish a nice floor. Limit his use to cash games, however, due to his low ceiling.

**video

Kyle Lowry, Toronto Raptors

Main Beneficiary: PF Serge Ibaka
Secondary Beneficiary: PG Cory Joseph

Lowry had surgery to remove loose bodies in his troublesome wrist and is almost certainly going to be out until the opening round of the playoffs. It's a tremendous blow to Raptors fans who had hoped their team's trade deadline moves - acquiring Ibaka from the Orlando Magic and small forward P.J. Tucker from the Phoenix Suns - would be enough to lift the team into the No. 2 seed in the Eastern Conference and challenge Cleveland in the playoffs, should the teams meet.

Ibaka should see the biggest boost in daily fantasy value as the Raptors shuffle around the scoring responsibilities; DeMar DeRozan remains the No. 1 option, but Ibaka appears ready to become the No. 2 as evidenced by his 22-point, 12-rebound performance against the Washington Wizards on Wednesday. Ibaka has proven himself a capable scorer in the past, and added to his rebounding prowess, he should make for an intriguing all-formats play until his salary climbs.

Joseph is the other Raptors player to keep an eye on while Lowry is sidelined, though he doesn't have the ceiling or the consistency that Ibaka has. Joseph poured in 11 points and added four rebounds but had just one assist in 28 minutes against Washington; he's prone to duds, which makes him a risky tournament play. He does, however, provide a decent enough floor - at least at his current price point - to be worthy of consideration in cash games.